Dashboards, Meeting Rooms & Team Collaboration
Motivate your company, empower your team and improve decision making with real time data and information.
Userful's software takes an off-the-shelf PC and turns it into a high-end office video controller. It includes all the key features to quickly and easily control and display multiple content sources on the digital screen in a flexible way. Manage and control the solution through the cloud or for sites with no internet connection, using the Local Area Network (LAN).
All the high end features needed for every office application from meeting and board rooms to collaboration walls, KPI dashboards, internal communications, customer presentation rooms and more
Huddle Rooms
Empower your team with easy to use tools collaboration for small group spaces.
Meeting and conference rooms
Empower business leaders with the tools to share their ideas clearly and easily.
Video Walls to Greet Your Customers
Eye catching artistic displays help deliver your message and promote your brand and products when visitors come on site.
Corporate Communication
Digital signage is a proven way to engage an audience and deliver a message. Use displays to help communicate, inform and motivate your team.
Learn how easy it is to set up an office display with Userful
Questions?
Book a time with a Userful expert now.
Want more?
Click here to watch 20 min. recorded webinar on office video walls
How can we help?
Click here to set up a personalized 1-on-1 demo.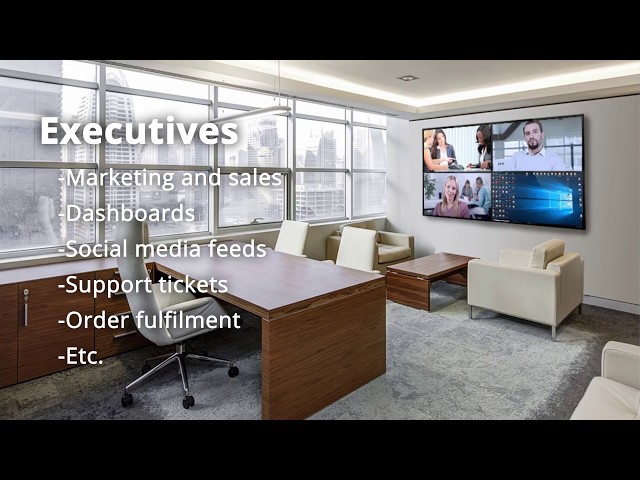 "What I like about Userful is that not only did it fulfil all our requirements but it did so at a great price."
Ajoy Bhattacharya
Senior Director of Innovation and New Tech
"We are very happy with the product, easy to use and manage and very price-competitive...Plus it is a very 'set it and forget it', hands-off solution"
Stephen Lee
Vice President of Tuck Technologies
Get Instant Pricing
Userful offers Straightforward, pay-for-what-you-need pricing. Don't overpay for your video wall solution.
How can we help?
Talk to a Userful Team Member. Book an instant meeting with one of Userful's Video Wall specialists.