Attract Attention, Engage Your Audience, Increase Sales

Synchronize video walls and digital signs and optionally add interactivity for deeper customer engagement.
Userful is a global platform for delivering high impact visual messages across video walls and digital signs
Userful makes it easy to deploy a mix of video walls and digital signs within one building or across multiple locations.
Choose from an on-premise server to directly drive and manage local displays over the network or use Useful Cloud which connects directly with smart displays and eliminates the media players, thin clients, cables, extenders and typically required to deploy digital signs and video walls.
Userful's easy-to-use, browser-managed software delivers eye catching digital signage and video walls with unparalleled performance and flexibility.
Userful's On Premise solution uses off-the-shelf, standard hardware while Userful Cloud requires no additional onsite hardware and connects to displays directly from the cloud. Either way Userful makes deployment and management simple, and ensures customers don't overpay for proprietary hardware.
Userful delivers maximum content flexibility: virtually any source anywhere on any screen or video wall up to 8k. Deploy a mix of video walls, digital signs and even unique artistic video walls to attract attention, engage an audience, and impress passersby.
All content can be centrally managed through the cloud and both content and layout changes can be scheduled or triggered using Userful's API. Userful integrates with a variety of Content Management Systems or allows customers to play any content at all using HDMI or SDI capture.
For more about how Userful on Premise or Userful Cloud work, visit our How it Works page.
Learn How Easy It Is to Set up a Video Wall with Userful
Questions?
Book a time with a Userful expert now.
Want more?
Click here for 20 min. recorded webinar on digital signage & video walls
How can we help?
Click here to set up a personalized 1-on-1 demo.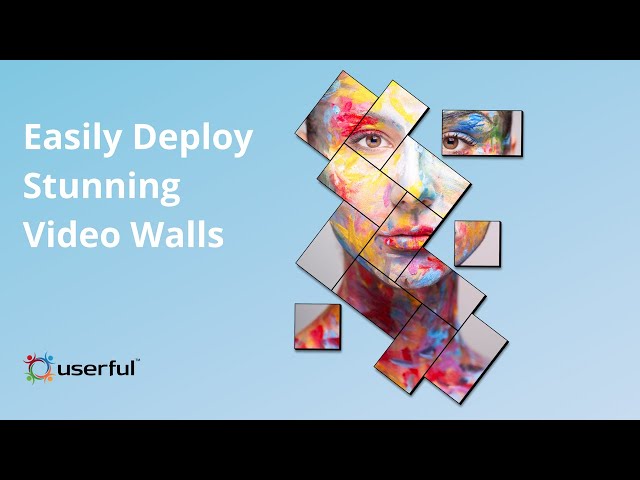 The system is lightning fast to setup. What would have taken 1-2 days with our previous solutions took about 1 hour.
I am really looking forward to doing another one (video wall) and another one and another one.
Very pleased with the Userful solution, which has delivered as promised..and far easier to maintain and operate.
Userful can play the content of any Content Management System (CMS) using an external player, but the following CMS's directly integrate into Userful meaning no extra player is required. The PC on which Userful is installed is also the CMS player.
Userful offers straightforward, pay-for-what-you-need pricing. Don't overpay for your video wall solution.
Talk to a Userful Video Wall Specialist. Book an instant meeting with one of Userful's Video Wall specialists.
Download our pre recorded webinar introduction to Userful for video walls and digital signage which includes a feature by feature tour and a demo of the Userful Control Center.